July 2021 Volume 6 Issue 1
Rotary Leaders Embrace Environmental Stewardship:
ESRAG Equipping Rotarians for Impact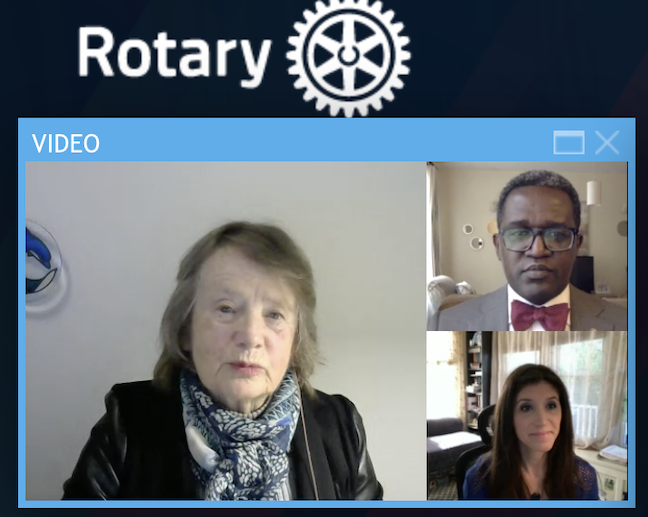 ESRAG Director Dr. Pat Armstrong, PDG Joe Otin (D9212), Rotary's Representative to the United Nations Environment Programme, and RI Regional Grants Manager Lauren Marquez-Viso leading the breakout on environmental global grants at the Rotary International Convention in June.

June was the culmination of an extraordinary year in which ESRAG's capacity to inform and equip Rotarians grew exponentially. "We are about to burst out of our tight skin like a Monarch butterfly ready to take wing," said Board Chair Dr. Chris Puttock at the June 24 ESRAG Annual Meeting.
This issue gives you an eagle's eye panorama of that growth, as well as the prominence Rotary's top leaders gave to environmental action in their speeches to the 2021 International Convention.
We're delighted to bring you a profile of Keith Madden, who just started work as Environment Area of Focus Manager of The Rotary Foundation. We also link you to three exciting educational programs this month. Enjoy!
ESRAG Annual Meeting
Celebrates Spectacular Growth
On the eve of Rotary's first round of grant-making under the Environment Area of Focus, ESRAG members celebrated an incredible year of growth at the June 24 Annual Meeting. Leaders gave thrilling updates on the array of project teams and regional chapters now working to inspire and equip Rotarians around the world to protect the planetary systems on which we all depend for life.
If you weren't able to attend the meeting in real time, I strongly recommend you
watch the recording at this link
to hear the short talks by outgoing Chair Dr. Chris Puttock, incoming Chair Rick Randolph, MD, and fellow directors
Pat Armstrong,

Yasar Atacik, Larry Hands,
Karen Kendrick-Hands, and Steve Solbrack, giving an overview of the resources and energy you can tap through ESRAG. Meet your 2021-22 ESRAG Directors
here
.
Only five years old, ESRAG is achieving robust intergenerational growth and effectively expanding and sharing leadership under its new strategic plan, developed this year to support the goals of Rotary's Environment Area of Focus policy.
Here are some of the highlights of 2020-21:
• ESRAG's membership has grown 500% in the last two years, now spanning over 60% of Rotary districts. We are networking and building friendships through twelve vibrant Regional Chapters.
• ESRAG leaders completed seven position papers and produced and recorded an incredible array of talks. Several, such as the 2021
New Environment Symposium
, are available on ESRAG's new
website
, ready for you to use at meetings.
• We continue to develop catalytic collaborations with organizations beyond Rotary.
• ESRAG has a growing array of specialized teams ready to assist Clubs and Districts to implement high-impact projects.
• ESRAG members contributed thousands of hours to prepare and staff 12 House of Friendship booths and 20 multimedia Virtual Reality exhibits for the Rotary International Convention. Click
here
to link to these displays.
• At least 23 Rotary EcoClubs have been organized around the world.
• The six new ESRAG directors include two Rotaractors, Deniz Vural of Turkey and Carlos Montoya of Mexico. The average age of ESRAG directors has dropped by ten years.
• ESRAG's Instagram page now has 1,000 followers.
It was also a joy to see the extraordinary work of Australian environmentalist Rob Anderson honored by a Paul Harris Fellowship. Rob has led the redesign of ESRAG's website to connect and inform Rotarians regionally and globally. He also played an essential role in gathering and organizing content for the incredible array of exhibits ESRAG teams created for the Virtual Rotary 2021 International Convention.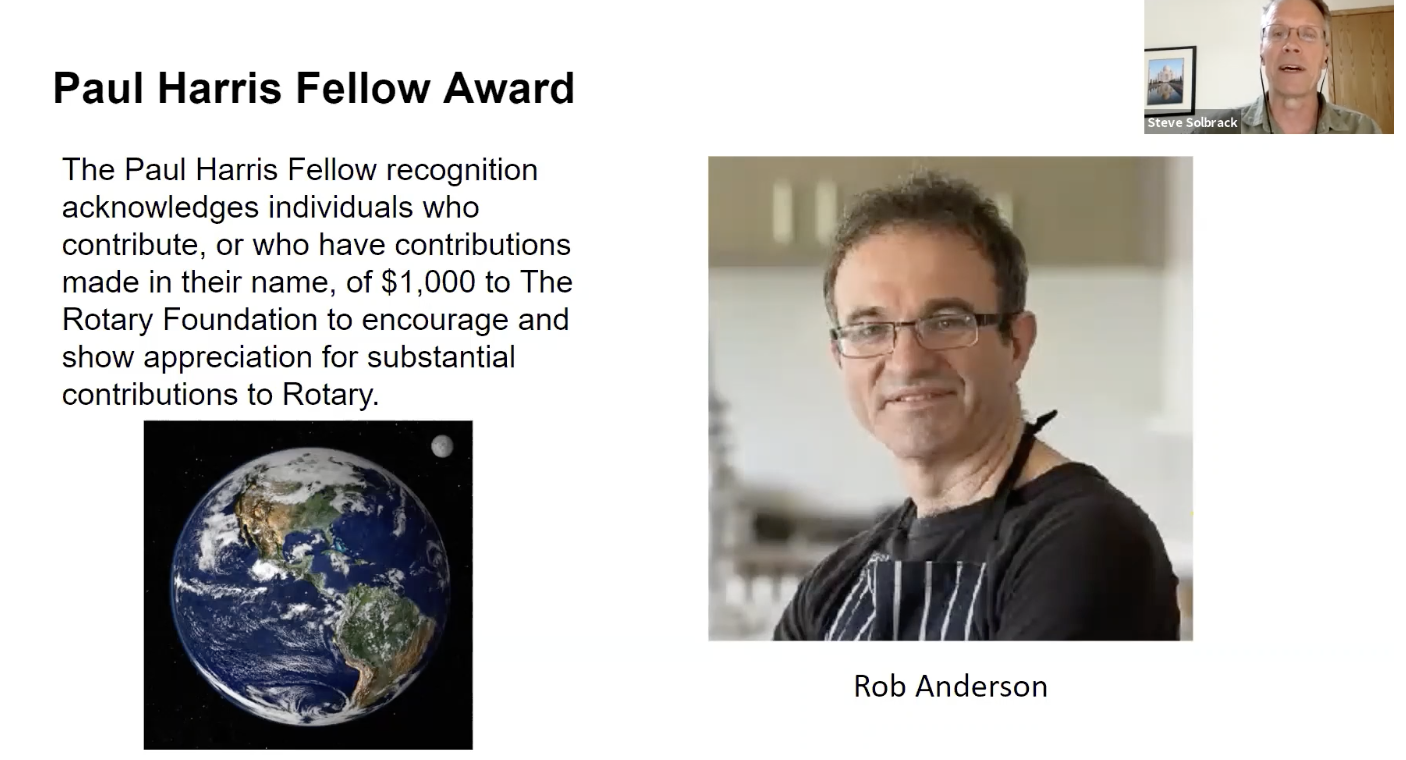 by Ariel Miller, ESRAG Newsletter Editor
Rotary Leaders Champion Environment at RICON

Rotary's leaders ardently endorsed environmental action in speeches throughout the Rotary International 2021 Convention. They gave Ugandan climate activist Vanessa Nakete (above) center stage in the Sunday General Session. She riveted the audience with her passionate call to Rotarians to act now, describing how climate change is super-charging floods, droughts, disease and suffering across her continent.
Commending Rotary's "new Area of Focus, the Environment" in his welcome to the Convention,

RI President Holger Knaack urged

Rotarians in his closing remarks to live into Rotary's ethic of service above self. "Taking care of our environment is a way we show respect for future generations," he said. "This is the kind of care that leads to peace."
In the second General Session, 2021-22 RI President Shekhar Mehta explained how solving environmental issues has been built into many of Rotary's humanitarian projects for years, and outlined ways that environmentally sustainable initiatives can fuel economic development.
In his report on The Rotary Foundation's progress over this incredibly difficult year, Foundation Trustee Chair K.R. Ravindran drew a parallel between current catastrophes and the Great Chicago Fire that destroyed that city shortly before Rotary was founded there. Standing in front of a panorama of the skyscrapers that rose from the ashes of Chicago, he said, "this has been a perfect time to look at our own architecture and envision a future Foundation that will withstand every storm on the horizon. So this year, my friends, we laid the groundwork to enable our new area of focus on the environment … to inspire our clubs to think of innovative ways that will help us protect our planet and mitigate the growing threat of climate change."
"Rotary will remain a constant and will continue to keep engaging people only because it is always changing, as needed…by innovating in adversity, we can meet the urgency of this moment,"said Rotary General Secretary John Hewko in his speech June 13. "And we're already taking action. We've decided to add a new area of focus –supporting the environment – that will offer Rotary members another dedicated channel to increase our impact.'
Hewko went on to describe the emergence of innovative clubs that are thriving. He listed four characteristics many of these clubs share: they have partnerships outside of Rotary, are cause-based, involve young people, and adhere to Rotary values and ethics. The first example he cited was the International Rotaract eClub for the Environment (see Steve Solbrack's article, this issue). Hewko included the creation of the environment Area of Focus as one of the major Rotary achievements of 2020-21, and recommended ESRAG as a key resource to equip Rotarians.
You can download these talks in video or pdf format
here
. They are an ideal length to introduce a discussion of environmental projects in your Club or District meeting.
ESRAG's New Chair Brings Compassion, Global Experience
ESRAG's new Board Chair, Rick Randolph, MD, is Senior Chief Medical Officer for Heart to Heart International, with three decades of global experience. "We respond to disasters which overwhelm the ability of the local healthcare system to cope," he writes. "Many of these disasters – such as tropical storms and floods - are driven by climate change. Many –such as Ebola, Cholera, and COVID 19 - are due to disruption of the local environment. They are all triggered or exacerbated by changes in our environment. The destruction and loss of life have profoundly affected me.
"ESRAG is an organization that can make a difference," adds Rick, who serves on Rotary's Cadre of Experts and the World Health Organization's Technical Service Group for maternal and child health in disasters. "We can educate and inspire leaders to address the problems that affect our planet. We can bring groups together to magnify the effects of any single group. We can work for the disadvantaged who are disproportionately affected by the changing climate. Change occurs when we change the hearts of the people, and ESRAG can help make that change. That is why I serve in ESRAG."
A family physician based in Lenexa, Kansas, USA, Rick has won the Service Above Self Award and the zonal Rotary Alumni Global Service Award. He is a Rotary Major Donor and Bequest Society member. Rick's partner, Jo Randolph, skillfully guides ESRAG's Facebook page as part of ESRAG's Communications team.

ESRAG Members Appointed
to Key Rotary Teams
ESRAG Directors Dr. Christopher Puttock and Karen Kendrick-Hands have been appointed by RI President Shekhar Mehta as part of Rotary's delegation to the UN Conference on Climate Change (COP 26) this November in Glasgow.
Kirsten Weber, Co-Chair of ESRAG's Great Britain and Ireland Chapter (ESRAG GBI), is collecting input for the delegation. "With the Environmental Sustainability Rotary Action Group (ESRAG) and the Rotary Representative Network, we have started discussing Rotary's representation at COP 26. We would be delighted to have you on board! To perform together, we believe it is crucial to share our thoughts, and to have an overview of involved parties and projects. Therefore we invite you to let us know about your project through
this form.
" If your club would like a presentation about the work of COP 26, and why Rotary is engaging in this important world forum on climate change, please
contact Kirsten Weber
.
Several ESRAG members are now on the Rotary Foundation's Cadre of Experts for the new Environment Area of Focus: physician Rick Randolph; botanists Dr. Christopher Puttock and Dr. Mina Vinkatamaran; carbon footprint expert Nilam Bedi; Salvador Rico, coordinator of ESRAG's World Rivers Day initiative; ESRAG Plastics Solutions' Franz Mueller; and Doug White, a leader in ESRAG's Project Drawdown and Renewable Energy Task Forces. Let Board Chair Rick Randolph know if you are also a Cadre member!
The Foundation is restructuring the Cadre and re-credentialling current members. Here is
an overview of their role
. If you have technical expertise and would like to be considered for the Cadre for the Environment,
email the Foundation
and explain your background. Foundation staff will do their best to get you connected.
July Biodiversity Meetings
Zero Waste & Circular Economy
July 14, 1:00 pm UTC, 9:00 am EDT
Does the term "Zero Waste" make any sense to you or is it like the term "Jumbo Shrimp?" Come and learn what the term really means, and why it plays such a large part in our worldwide drive toward a circular economy, and keeping our trash from being sent to landfills, incinerators, and the ocean. Mother Nature doesn't waste - will Humankind learn from her? How can we improve on 9% of all plastic being recycled?
Karin Tome is retired from being a "Jill-of-all-trades." As a library associate in the Maryland public library system for 20 years, she taught children through storytime, environmental programs, and research assistance. As Councilmember and Mayor of Brunswick, Maryland, she worked with community members, municipal, state, and federal employees, and fellow legislators to advance sustainable policies and practices.
As a volunteer, she continues to work with schools, activists, and non-profit organizations to learn and relay pertinent information about the environment, local planning, inclusivity, and other topics of concern. She and her husband have two grown children and are in the process of moving from Maryland to the state of Pennsylvania, USA.

Global Footprint Network - Net Zero Rotary July 28, 1 pm UTC, 9 am EDT
The Global Footprint Network (GFN) calculates that humans currently use as many ecological resources today as if we lived on 1.6 Earths. This presentation will discuss the GFN's tools, including ecological footprint and biocapacity calculators, as a way to advance sustainability by bringing ecological limits to the center of decision-making. Since 2003, GFN has engaged with more than 50 nations, 30 cities and 70 global partners to deliver scientific insights that have driven high-impact policy and investment decisions.
Public policy consultant Nilam Bedi, based in Toronto, hails from Kenya. He has led development of environmental policies and programs at various levels of government, the United Nations, and research institutes in Africa, Asia, North America, Latin America and Asia, on climate change, land use, water resources, biodiversity, environmental standards, and sustainable agriculture. Nilam serves as a member of RI's Cadre of Experts for WASH Global Grants. He helped draft the Rotary Foundation's Environment policy statement.
Economist Eric Miller, Director of the Ecological Footprint Initiative at York University in Toronto, manages GFN projects including the production of the National Ecological Footprint and Biocapacity Accounts. He consults with governments, industry, think-tanks, and NGOs.
Confronting the Economics
of Fossil Fuels

Thursday, July 15, 4:00 pm Pacific Time (UTC-7)
Supercharged by climate change, human suffering and huge economic losses are happening worldwide, yet fossil fuel subsidies are projected to be four times those for renewables over the next few years. The Rotary Climate Action Team Network is hosting this presentation to equip Rotarians to advocate for national climate legislation. The speakers are American engineer Irene Yang and French management consultant Julie Gaudin, two passionate advocates for smart solutions who volunteer with the nonpartisan Citizens Climate Lobby (CCL) to engage and equip grassroots community organizations across North America as part of CCL's Motivational Presentation Project. Register for the Zoom link here.
The interactive workshop can be a valuable hands-on experience in building consensus. "Multiple proposals have been introduced in Congress that put a price on carbon pollution. But there are important issues that need to be resolved to secure buy-in from the American people," the speakers write. "We will briefly share our own personal climate journey, leading to the hope and possibility of a national climate solution with broad public support. We will consider the most outstanding issue regarding carbon pricing: the money.
"We like to focus on things ordinary people, progressives and conservatives alike, care about. During the conversation there will be polls to build group consensus and discuss how your members can communicate their preferences to Congress as climate advocates, as well as to their colleagues at work, friends, and family. Most importantly, this discussion will empower your engagement with other Rotarians in group settings. It will be a positive and uplifting experience."
Inspiration, Connections, and Resources: Rotaract E-Club
for the Environment
The new Rotaract eClub for the Environment is a global Rotaract club co-sponsored by ESRAG and Rotary District 5950 in Minnesota, U.S.
The club brings together emerging leaders ages 18-30 to work on climate change and other environmental initiatives. It is an international club offering inspiration, connections, and resources to members to enable them to accomplish environment-focused projects within their communities. It is also a wonderful opportunity to develop critical leadership skills.
The club has 24 young adult members from 12 countries around the world. RI General Secretary and CEO John Hewko, speaking at the 2021 Rotary Virtual Convention, lauded this club as an example of Rotary's successful innovation to meet contemporary challenges. Do you know any young adults who are people of action who want to make an impact? If yes, invite them to learn more about the new club and attend an upcoming meeting. The club meets online the first and third Tuesday of each month at 6:00 pm UTC +0, You can email them here.
By Steve Solbrack, ESRAG Director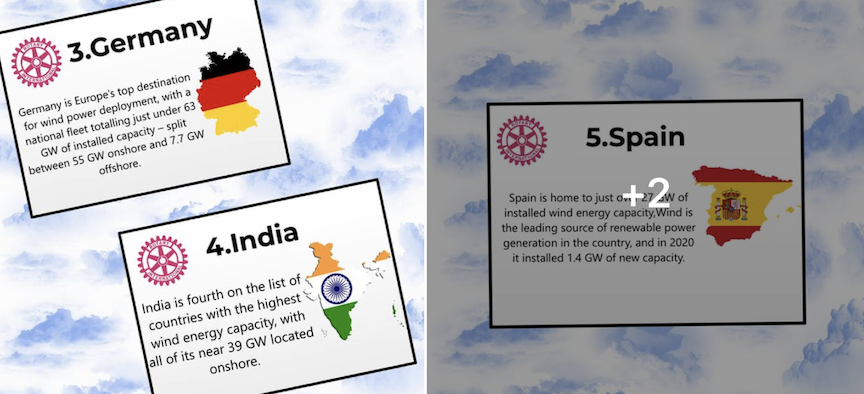 Global Wind Day post, Rotaract eClub for the Environment Facebook page.

Rotary Foundation names Keith Madden as Environment Area of Focus Manager
We are delighted to report that Keith Madden joined The Rotary Foundation staff at the end of June as Area of Focus Manager for the Environment. He met immediately with ESRAG 2019-21 Chair Dr. Chris Puttock, 2021-23 Chair Dr. Rick Randolph, and Past Chair Karen Kendrick-Hands, JD, to learn about ESRAG and begin working together. Here's a glimpse of the experience and wisdom he brings to his new role.
Keith Madden is a passionate advocate for nature, biocultural diversity, and a living planet. In his new role, he guides and implements The Rotary Foundation's growing environment portfolio, and serves as an expert advisor on environmental and climate-related initiatives at Rotary organization-wide.
"Topics like insect pollinators, important bird areas, tipping points, climate vulnerability, and food sovereignty are no longer niche concerns of a concerned few, but are capturing the attention of larger segments of the general population and, suddenly, quite a few influential institutions across economic sectors," he says. ""Rotary is a unique global organization. It can have a distinguished role in this groundswell from civil society by leveraging the potential of Rotary Foundation resources and its network. I am enthusiastic about scaling up and linking successful community experiences globally. I look forward to utilizing the unique capabilities of the CADRE of experts, Rotary Action Groups, and community leaders in Rotary clubs around the world"
Keith Madden has worked and partnered with leading NGOs on conservation and sustainable development in Latin America, the US, and globally. Most recently, as Program Officer with Andes Amazon Fund, he worked on grantmaking partnerships with the Gordon and Betty Moore Foundation, the 30x30 Campaign for Nature, and South American government agencies, contributing to the protection of several million acres of land in official protected areas and indigenous territories across the Amazon Basin. "Most of the best environmental ideas I have come across were when I have learned the perspective of people from very different places and different backgrounds from my own," he says.
He first became enthralled by Neotropical biodiversity in Ecuador, a country he lived in for nearly five years while working and studying in the region. This included managing conservation projects across the Americas with BirdLife International. Keith Madden started his career with research on environmental cooperation and the impacts of climate change on vulnerable countries. He holds a B.A. in Environmental Studies and International Relations from Brown University (USA) and an M.S. in Environmental Social Science from the Latin AmericanFaculty of Social Sciences (FLACSO Ecuador).
The Environmental Sustainability Rotary Action Group operates in accordance with Rotary International policy, but is not an agency of, or controlled by, Rotary International. Read about ESRAG and Rotarians' environmental projects on our new website! Please email us with news of your environmental projects.