October 2021 Volume 6 Issue 4
Rotary Steps Up at COP 26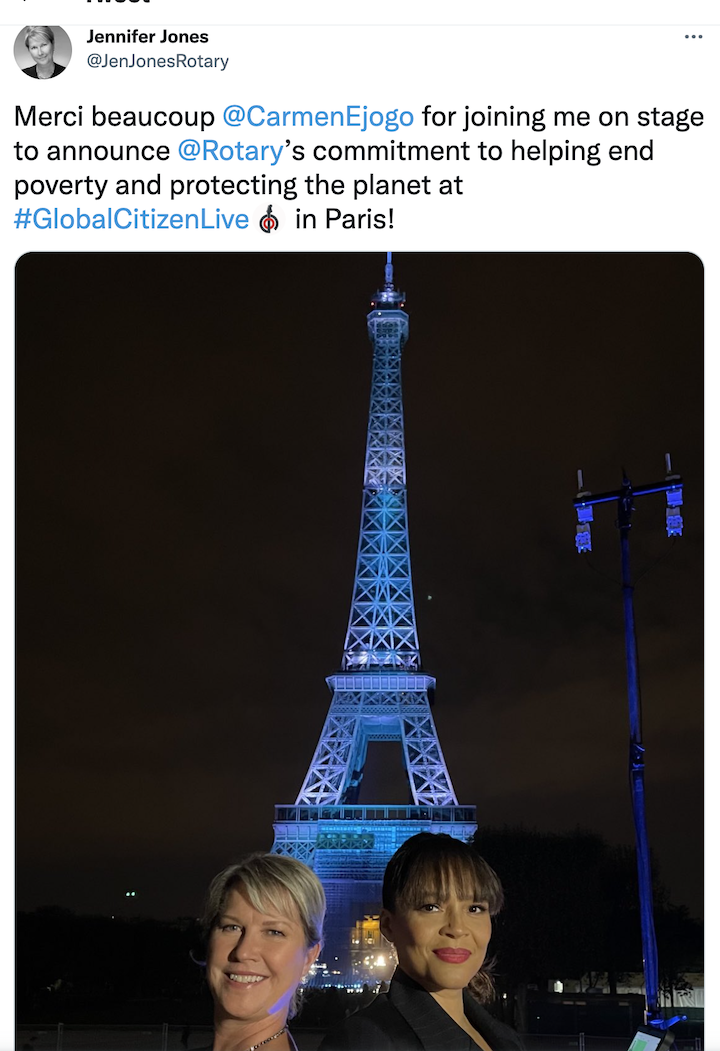 Speaking at the star-studded Global Citizen Live concert in Paris on Sept. 25, RI President-Elect Jennifer Jones pledged $97 million in grant funding for Rotarians' environmental and anti-poverty projects next year. She shared the stage with French President Emmanuel Macron, Paris Mayor Anne Hidalgo, and celebrity performers including Carmen Ejogo and Elton John.

ESRAG is thrilled to bring you news of Rotary's commitment to tackling climate change, embodied in Rotarians' goals and preparations for the upcoming UN Climate Conference in Glasgow.
This month's stories include land and marine reforestation projects which exemplify how Rotarians are working to mitigate climate change, and build resilience to its inevitable impacts which are already wreaking havoc.
We also report how Rotarians' environmental work is capturing world attention, from Jennifer Jones sharing the Paris spotlight with Carmen Ejogo, to Rotary's climate change poster contest for British children winning praise from former Prime Minister Theresa May.
In this issue:
• Committing RI's World-Wide Reach
• British Children Urge Action
• Rushing to Rescue India's Forests
• ESRAG Mangrove Videos for COP 26
• Help ESRAG Win on Earth Gives Day 10/7!
• Foley Keynotes ESRAG Big West Event 11/6
• Project Biodiversity+ Seminars
Watch your email for Karen Kendrick-Hands' upcoming blog posts from COP 26. Read, take heart, and and take action!
Committing RI's World-Wide Reach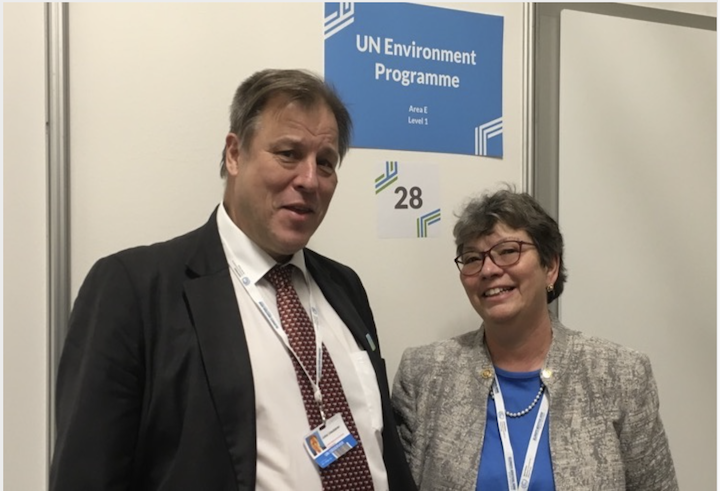 Karen Kendrick-Hands at COP 24 with Jukka Uosokainen of the UN's Climate Technology Centre and Network
Rotary International is sending its top representatives to the UN Climate Conference in Glasgow. Having embraced protecting the environment as a priority in 2020, Rotary is instructing its team to offer the worldwide networks and expertise of its members to help avert climate catastrophe.
"This is a call to action for EVERY ROTARIAN, not just in our Clubs, but in our personal lives and the institutions and businesses we lead, to make the changes urgently needed to turn this crisis around," says environmental lawyer Karen Kendrick-Hands, ESRAG's representative on the delegation. "That's why it's so important that we are there."
The delegation will be led by Judith Diment, MBE, Dean of Rotary's Representatives to UN agencies, the European Community, Commonwealth, and Organization of American States. Accompanying her will be British journalist Doug Wills, Rotary Representative to the Commonwealth, and Scottish Rotarians Tariq Durrani and John McPherson.
Attending COP 24 in 2018 as Rotary International's first Observer Delegate, Karen reported the dramatic meeting where United Nations Secretary General António Guterres convened the NGOs at the end of the frustrating negotiations to implore their help. Climate change was running faster than political will, he told them. Science confirmed that the Paris goal of keeping global warming below 2 degrees Celsius was not enough.
Karen transcribed Guterres' call to action: "It is paradoxical that the warming is worse than forecast, but the political will of Paris has slowed in several key sectors. We need the guiding interest and commitment from civil society, local communities and business. The work of the states is slowing. The economics are lagging 10 to 15 years behind."
"Rotary stands ready to help countries and regions achieve their targets through collaborative projects," wrote the Rotary Foundation's Environment Manager Keith Madden in a memo to Rotary's COP 26 delegation. "Rotary has the ability to link leaders from large carbon-source countries, and smaller countries focused on adaptation, to join together, exchange ideas, and take action." Rotary is asking its delegation to network with other NGOs and participants, to publicize Rotary's commitment and capabilities, and to bring back all information they can on potential collaborations.
"I remember UN climate emissary Myra Jackson saying 'we need a distributed network of community leaders' to close the terrible gap between national commitments and what we absolutely must do to prevent calamity," Karen says. "When she uttered that phrase, I replied that she had just described the essence of Rotary. If there's a moment for what we do, this is it."
Karen will be writing a blog from the two-week conference in Glasgow. Watch your email inbox for news of where to read her dispatches, which will ground the unfolding events in the longer arc of climate diplomacy.
British Children Urge Action
Thousands of British children have submitted climate change artwork to a COP 26 poster competition organized by Glasgow Rotarians Tariq Durrani and John Macpherson. An independent panel will select twenty to be exhibited in the Commonwealth Pavilion, with many more on display throughout the city to inspire participants during the international conference.
"I am delighted to learn of Rotary's Primary Schools Competition…to capture the views of young children and what they think should be done to mitigate against or adapt to Climate Change," former Prime Minister Theresa May wrote in a letter to Judith Diment. "It is encouraging to see the enthusiasm shown by the Primary School children and the way it has enhanced their understanding of the issues."
Rushing to Rescue India's Forests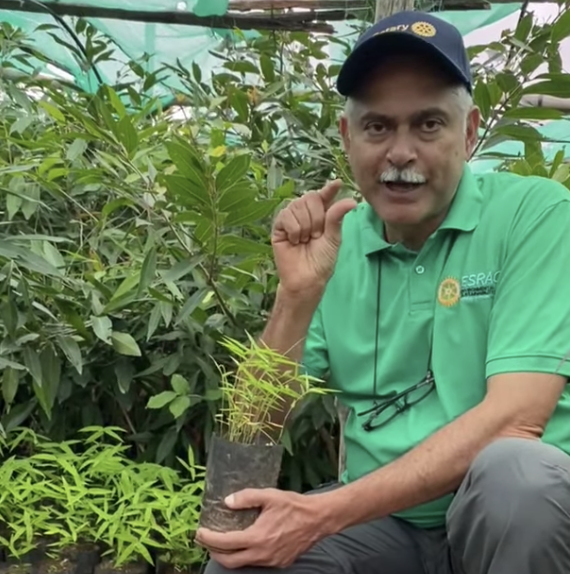 A shot from CR Hanumanth's video on planting bamboo
Rotarian CR Hanumanth was driving east from Mysore through a forest last February when he noticed an extraordinary flowering of Bambusa bambos, an indigenous species of bamboo. This only happens every 35-40 years. There's no way to predict when the stands in a particular forest will bloom, and he realized immediately that this was a huge opportunity to combine carbon capture, resilience, and economic opportunity for the region. These bamboo seeds are only viable for nine months, so speed was essential.
Hanumanth, a member of the Rotary Club of Mysore West, is Restoration Chair for ESRAG's South Asia Chapter. His non-profit, Junglescapes,
has built vital partnerships with tribal communities to restore habitat in 1,500 hectares of the Bandipur Tiger Reserve. He reached out to the tribal network and the Karnataka Forest Department, and they went to work, harvesting around three tons of seeds to sell, bringing in much-needed income for their families in the midst of the economic disaster of the pandemic. Each kilo contains about 80,000 seeds. If even 10% of these germinate and survive, that's almost ten million saplings.
Hanumanth was able to buy a third of the seeds for Rotary clubs, and posted a captivating short video on YouTube on how to plant them. Dr. Meenakshi Venkatraman, Chair of ESRAG South Asia Chapter, scheduled a national online workshop. The webinar drew 450 people. Rotary Clubs across India stepped up to plant the seeds. It's a beautiful example of the capacity of Rotary networks to implement effective wide-scale solutions. Hanumanth says he owes the success of the bamboo campaign to the Chair, PDG Rtn Ajay Gupta, and members of India's National Environment Committee.
By noticing the flowering and organizing the harvest and distribution of seed, Hanumanth seized a generational opportunity to reverse environmental disaster. Two invasive species have spread to dominate more and more of the region's forests, disrupting the normal ecology of soil microbes and leaf litter, and leading to a severe compaction of the soil so that it can't absorb and retain water as it should. In addition to biodiversity loss, this has caused a terrible cycle of flood and drought, endangering watersheds.
All you need to plant Bambusa bambos is a stick to poke a hole and your fingers to drop in a pinch of seed and close the hole. The seed germinates within a few days during the monsoon. Unlike trees, these saplings don't require any further attention – a great relief, when you're dealing with millions of them. After 3-4 years one can start cutting the culms (above-ground stems), for use in furniture, handicrafts, and even in industry, and the plant will keep regenerating over its 40-year life cycle. It has a tremendous capacity to store carbon, retain water in the soil, and prevent erosion.
Equally important, Hanumanth is helping local people to notice and reverse what had been an invisible disaster. The invasive plants are lush and colorful, but people didn't understand their connection with floods or landslides. Hanumanth is an engineer. I asked him how he noticed what was happening to the forest ecology.
"Since I was a child, I have always loved being out in nature," he replied. "As we walked in the forests, my family and I began to notice that the sounds of birdsong had diminished, and more and more of the flowers were the same color. We wanted to find out why, and that's when we discovered the problem of invasive species and habitat loss." Thank goodness that Hanumanth kept his eyes open, and is so successful in opening other people's, so they can act before it's too late!
ESRAG Mangrove Videos for COP 26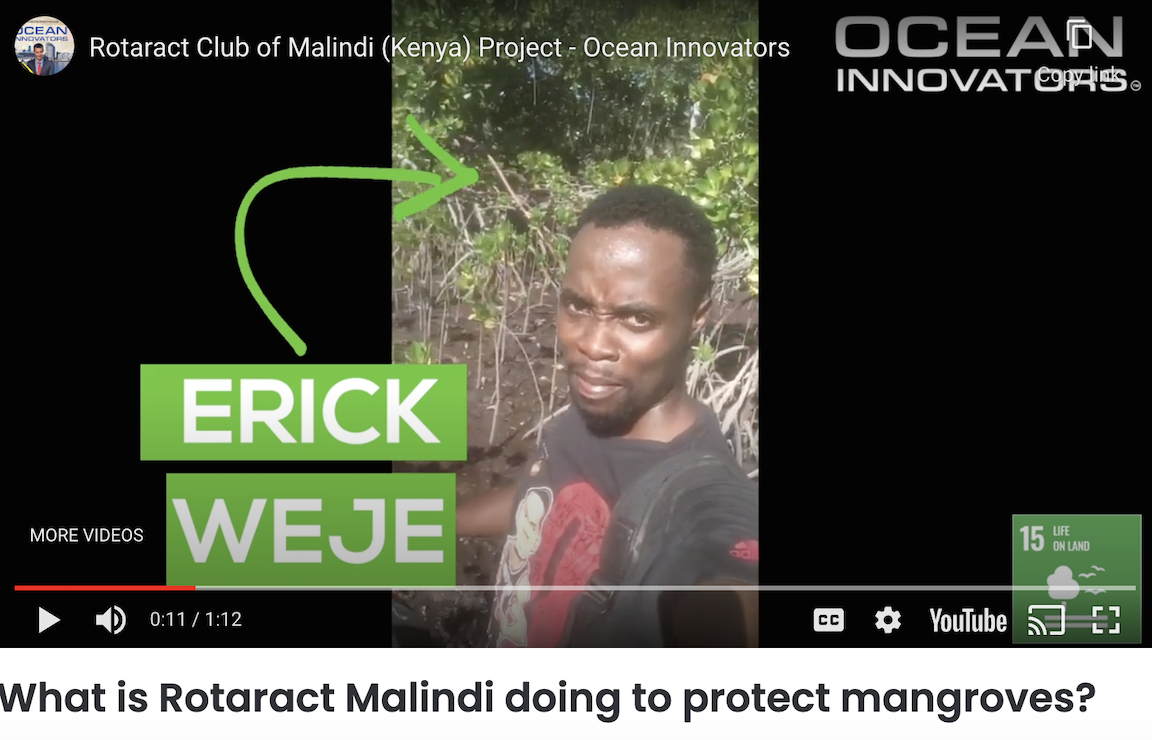 A screen shot from Ocean Innovators' video on the mangrove project of the Rotaract Club of Malindi, whose president is Erick Weje
The most important news Rotary's delegation brings to the UN Climate Conference is of our global network's capacity to help communities mitigate climate change and build resilience. ESRAG Director Vic Grosjean is providing powerful proof of that through interviews of Rotarians and Rotaractors who are implementing mangrove projects around the world. The articles and videos are posted on the Ocean Innovators platform. Here's Ocean Innovators' reporting on the mangrove restoration project of the Rotaract Club of Malindi in Kenya, whose members have planted over 80,000 propagules and 50,000 seedlings since 2017.
Mangroves are incredibly effective carbon sinks, holding carbon in their roots and soil where it can't be released by fires: a major advantage over terrestrial forests. Mangroves are vital to resilience because they reduce erosion and buffer coastal areas against increasingly powerful storms and flooding. As an ecosystem supporting fisheries and eco-tourism, mangrove forests also contribute to food security and local economies.
Vic has been invited by British Rotarian Doug Wills to submit the mangrove films to be shown at the Blue Charter Pavilion of the Commonwealth of Nations. Wills, who co-chairs the Rotary delegation to COP 26 with Judith Diment, MBE, serves with her as Rotary representative to the Commonwealth. Blue Charter is an agreement by the 54 Commonwealth nations to solve ocean-related problems and meet commitments for sustainable ocean development. It has an Action Group on Mangrove Ecosystems and Livelihoods.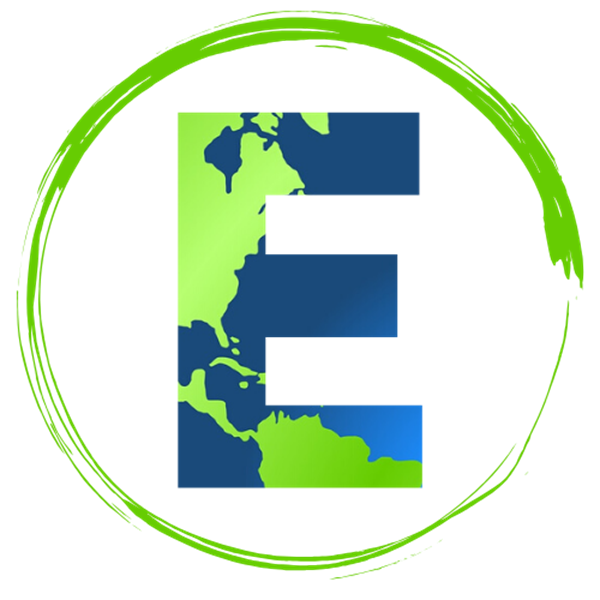 Oct. 7 is the Inaugural Earth Gives Day, and ESRAG is pleased to be participating. Earth Gives, through its signature giving day, aims to help environmental nonprofits go bigger with their impact. George Basch and I were the first ESRAG members to start Fundraise pages. As of Sept. 30, ESRAG was ahead of all the other participating nonprofits. If ESRAG comes in first on Oct. 7 with most dollars and most donors, we will win up to $4,000 in prizes.
Earth Gives Day is an opportunity for you, a stalwart ESRAG supporter, to let everyone in your sphere of influence learn about ESRAG. You can donate to ESRAG here, or better yet, start your own Fundraiser Page for ESRAG and promote it to your friends and neighbors easily. Press the "Fundraise" button, fill out the form, add an engaging image from your photo stream, and copy the link onto your favorite social media platforms. Spread the word about ESRAG to your Rotary and non-Rotary friends.
ESRAG's membership is growing fast, with Rotarians turning to us all over the world for project advice. We've added staff to provide essential support in coordinating the rapidly-expanding array of webinars, Regional Chapter work, websites, and technical assistance.
Help power our good work and spread the word by clicking here!
By Larry Hands, ESRAG Board
Foley Keynotes ESRAG Big West Conference Nov. 6!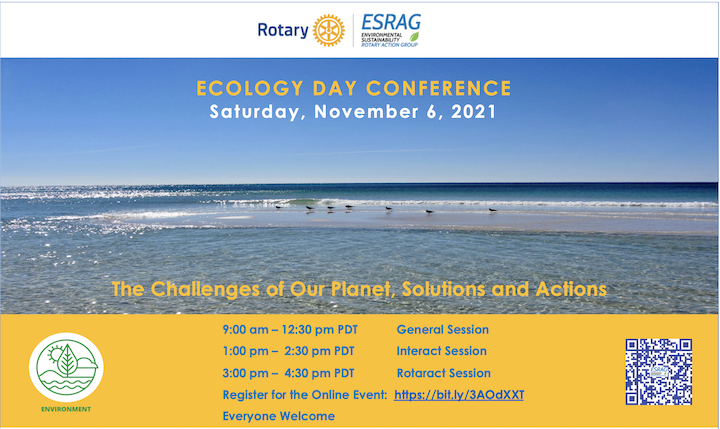 ESRAG's Western North America Chapter (Big West) invites all Rotarians and friends to a free conference Saturday, Nov. 6 in celebration of Rotary Ecology Day, starting at 9 am Pacific Time. This is a festival of world-class speakers, films, and discussion sessions for all ages.
The keynote speakers are Project Drawdown Executive Director Dr. Jonathan Foley and atmospheric scientist Dr. Donald Wuebbles, a member of the Nobel Prize winning Intergovernmental Panel on Climate Change (IPCC). The producers of the Feedback Loops films narrated by Richard Gere are presenting too!
Interact and Rotaract members will lead the afternoon sessions. Short videos about Rotary environmental projects will be shown throughout the day. "The event will introduce Rotary's new Environment Area of Focus to the broader audience, educating the attendees about environmental issues and how they can take action," says Yavuz Atila, ESRAG Big West Chapter Chair. "I also see this event as a membership drive opportunity, and hope to see over 300 new ESRAG members join in response to the conference." Please promote this widely to fellow Rotarians and everyone in your network who is concerned about the environment. You can register here.
Project Biodiversity+ Seminars
Oct. 6 - Nov. 3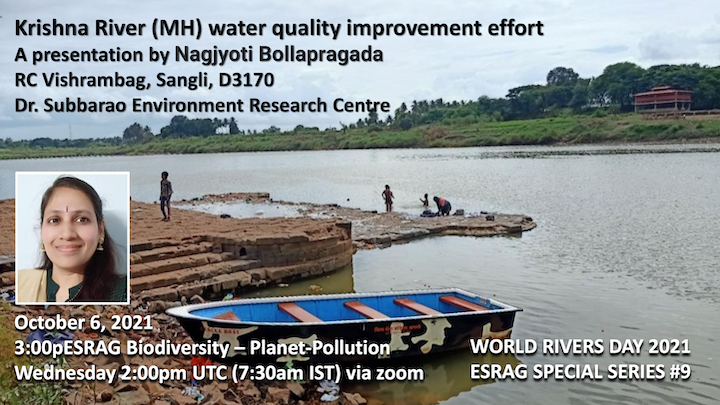 Dr. Christopher Puttock, ESRAG's Projects Director, is holding excellent seminars over the next five weeks on Zoom. The Project Diversity + Series draws Rotarians from all over the globe. Meetings start with welcome and networking, followed by a talk by a leading environmentalist and time for questions. All five upcoming talks are on Wednesdays.
Here's the schedule:
Oct. 6: Krishna River Water Quality Improvement, Nagjyoti Bollapragada, UTC 2 pm, 7:30 pm IST
Oct. 13: Artificial Reef Veracruz, DGE Kikis Lara, UTC 2 pm, 8 am Mexico
Oct. 20: Waters of Brasilia, Alberto Palombo, UTC 2 pm, 11 am Brazil
Oct. 27: Our Challenge: Plastic-Free Waters, Comandante Sergio Santi, UTC 2 pm, 4 pm CEST
Nov. 3: Pollinator Watersheds, PDG Ernesto Benitez, UTC 2 pm, 8 am Mexico
Once you register here for any of the talks, you'll receive email updates of the upcoming topics and speakers.
Read about ESRAG and Rotarians' environmental projects on our new website! Articles without by-lines in this issue are by ESRAG's Newsletter Editor Ariel Miller. Please email her with news and resources you'd like to share with ESRAG members in our monthly newsletter. The deadline is the 20th of the month before publication.
The Environmental Sustainability Rotary Action Group operates in accordance with Rotary International policy, but is not an agency of, or controlled by, Rotary International.