October 2021 Volume 6 Issue 4b
Every Generation Steps Up to the Climate Crisis
Emma O'Donnell's first prize poster in ESRAG's Mitigating Climate Change Poster Competition, which inspired 3,800 entries from children aged 10-12 from the Scottish Highlands to Cornwall.
As world leaders and thousands of delegates arrive in Glasgow for the 26th UN Climate Conference, we are thrilled to bring you voices of leaders from every living generation who are dedicating their love and skill to meet the existential crisis of life on Planet Earth. All of them have discovered Rotary as a way to amplify their impact.
In this special issue:

Rotary Lifts Children's Pleas to World

A Veteran's Preview of COP

Student Wins Role on Australia's Delegation

A Champion for Us All at 84

Ecology Day Conference Nov. 6 showcasing

international experts and Rotary youth

Project Biodiversity + Concludes River Series

ESRAG Wins Earth Gives Awards

New Member Platform - iMembers - SOON!
ESRAG's multinational communicators will be posting throughout COP 26. Follow the action via the new blog on our new website, as well as your favorite social media - just click on the widgets above to connect. Also: please add these addresses to your contacts now so your ESRAG news will continue to reach you from the new membership platform: mailservice@iMembersDB.com and membership@ESRAG.org
If you are reading this newsletter on your phone and the formatting is peculiar,
try turning the phone to a landscape orientation, and the layout should improve.
We expect the newsletters created with iMembers will be easier to read.
Each story will have a summary with a "read more" option.
Children's Pleas Reach World Leaders
Through Rotary Poster Contest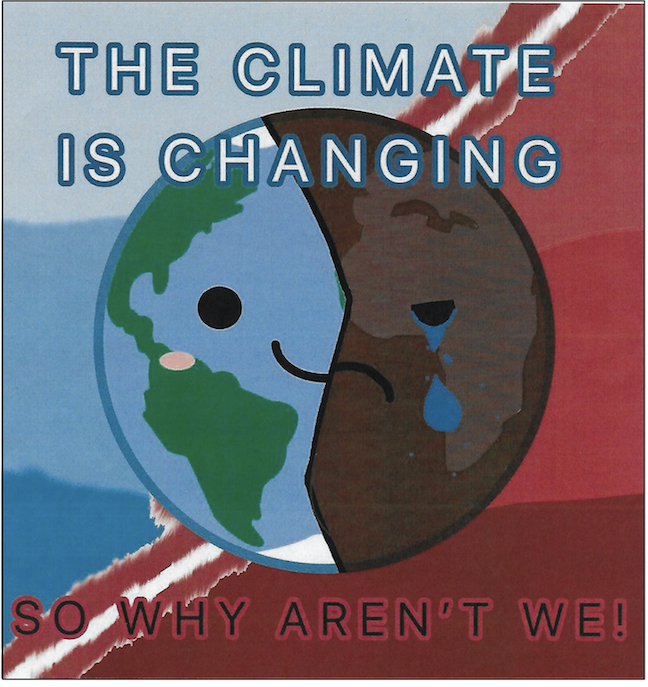 Austin Harris's powerful question is one of the prize-winning posters that will be front and center for delegates to COP 26.
Schoolchildren are pleading for effective climate action in art that will be seen by more than a hundred heads of state and 30,000 delegates to the UN Climate Conference in Glasgow, thanks to the Rotary Mitigating Climate Change poster competition organized by Helensburgh Garelochside Rotary Club near Glasgow. Open to all schoolchildren aged 10-12 across Great Britain and Ireland, the contest drew over 3,800 entries. Local Rotary Clubs played an essential role in engaging schools.
"We believed this was a massive opportunity for our children to think about climate change and the action that should be taken to protect their world for future generations, and we wished to give them an opportunity to convey their message to the widest possible audience," says John Macpherson, Secretary of the Helensburgh Garelochside Club, who organized the competition with Club President Tariq Durrani. "The response was superb with entries received from nine Districts and schools as far apart as Mull in the Scottish Highlands and Cornwall in the south west of England."
John and Tariq are members of Rotary's first official delegation to the UN Climate Conference and got vital support from the delegation leaders, Judith Diment, MBE and eminent journalist Doug Wills, as well as Glasgow's City Council and Convention Bureau. Selected by an independent jury, winning posters went on display for the Conference of Youth at Strathclyde University the week before COP 26, and will be showcased at the Commonwealth Pavilion on Youth Day, Nov. 5, when the prizes will be awarded.
Children's artwork will be seen throughout Glasgow from the airport to major hotels, with the headline "Mitigating Against Climate Change – Rotary Poster Competition" – and the name and school of the artist and sponsoring Rotary Club on each poster. "The publicity flowing from the Competition has exceeded our wildest dreams with television and press coverage around the country and superb coverage in our local press," says John.
The Rotary Poster Competition, commended by former Prime Minister Theresa May, is a compelling demonstration of Rotary's potential to mobilize attention and solutions to humanitarian problems by engaging and connecting stakeholders – from those most impacted to the highest level of policy-making. It's s a great template for other Rotary clubs working to build momentum for environmental solutions.
A Veteran's Preview of COP
Packing on the eve of ESRAG Directors Karen Kendrick-Hands' and Larry Hands' second COP Odyssey, She's ESRAG's representative on Rotary's first official COP delegation, and his badge is for Citizens Climate Lobby.
COP26 means the 26th meeting of the Parties to the United Nations Framework Convention on Climate Change (UNFCCC). COP 26, delayed for a year by the COVID 19 pandemic, will be held in Glasgow, from October 31 through November 12, 2021. The 197 nation parties to the UN's 1992 international climate treaty are developing climate solutions with the goal of limiting global temperature rise to no more than 1.5 degrees C. The Kyoto Protocol of 2009 and the Paris Agreement of 2015 are means to that end.
In addition to each country's "party delegates," non-governmental organizations (NGOs) like Rotary International (RI), which are accredited with the UN, send "observer delegates." At this first COP since RI added the Environment to its causes, RI will have a five-person delegation of observers in support of its commitment to:
Address the cause of climate change by reducing the emission of greenhouse gases,

Strengthen ecosystems and communities affected by climate change, and

Address environmental justice issues and public health concerns.
In 2018, I attended COP24 in Katowice, Poland as Rotary's first observer delegate to a UN climate conference. (Read about my experience in eight blog posts). The last day of COP 24, UN Secretary General Antonio Guterres called on civil society to engage, noting that the science is moving faster than world leaders. I believe he was speaking to Rotary, as a premier example of civil society.
One way to engage is for Rotary to work within the UN-provided framework, Action for Climate Empowerment (ACE), six areas in which Rotarians excel: education, training, public awareness, public participation, public access to information (transparency), and international cooperation.
Follow the activities of Rotary's COP26 delegation on ESRAG's COP 26 page and talk about our work in your club and community. We must connect ourselves and our clubs within our communities to ensure that the promises and ambition of COP26 become the reality of meaningful decarbonization, adaptation and resilience at home.
I aim to return from COP26 with specifics to share and renewed commitment to make a difference in our long, shared journey to climate solutions. Together: we can, we will, we must make a difference and serve to save lives by acting on climate solutions.
By Karen D. Kendrick-Hands,

ESRAG Co-Founder and Collaborations Director
Alex Jayasuria Named Global Voices Scholar:
Joins Australia's Delegation to COP 26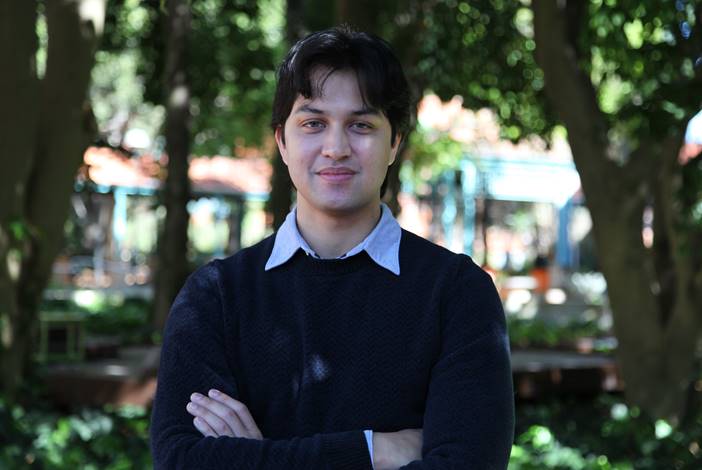 Alex Jayasuria, photo by Arun Raj, Senior Student Engagements Officer, Curtin University
Rotarian Alex Jayasuria, 25 has been chosen as one of four Global Voices Scholars to serve on Australia's official delegation to COP 26. A student of economics and finance at Curtin University in Perth, Alex will explore ways to expand the supply of carbon credits within Australia, as well as the potential for a regional carbon market in the Asia-Pacific. His goal is to help Australia develop innovative carbon solutions and remain competitive in a world where carbon tariffs from the EU and US are likely.
With a Eurasian cultural background and many family members in Malaysia, Alex also understands the challenges many smaller developing nations face. Climate change is not their main priority: many of these nations struggle with poverty, population growth, and lack of resources, seeing climate change as a challenge too great. Some of them are relying on wealthier neighbouring countries like Singapore to make the decisions, and will then follow. In 2022/23, Alex will spend time at the National University of Singapore, before working with Singapore's Ministry of Sustainability on their national 'Green Plan'.
Global Voices is a youth-led Australian nonprofit committed to developing the next generation of leaders by providing practical experience in policymaking, international relations, and diplomacy. Alex will participate in high level discussions with members of business and government during COP 26 and on his return to Australia.
"Alok Sharma, President for COP26, is an individual with a wealth of experience and understanding in the world of finance. His appointment will shift the tone of the delegation - climate action will be cast through the lens of business.," Alex writes. "Through my participation in COP26, I hope to gain a better understanding of regional carbon markets, government funding, and multilateral financial collaboration. Urgency is key at COP26. This will likely be the delegation that makes meaningful progress on these key financial and economic issues."
Alex's Rotary career began with attending RYLA in 2015. He went on to Rotaract, and then the Rotary Club of Hillarys. This is a small club which must conserve their resources and focus their time and efforts to have impact. Alex realised that several of Club members and many of his friends saw climate change as too big a problem for them to solve: how could they make a difference? He saw that the power of Rotary and a global network could provide some of the answers.


Already the recipient of two Rotary leadership awards, he serves as Environmental and Sustainability Champion for his Club. Alex learned about ESRAG from his District Governor, and is now participating in the ESRAG Environmental Ambassador's training course through the Oceania Chapter. He cited team-building experiences for Rotary as part of his successful application for the Global Voices scholarship.
The Global Voices Scholarship will support Alex's leadership development in three stages:
1. Attending COP26 as part of the Australian Delegation and participating in multilateral negotiations.
2. Policy Fellowship - Publication of a paper on domestic climate policy.
3. High-Level Domestic Briefings - Meeting with senior leaders in government, academia and industry and receiving training in policy writing.
As a Global Voices Scholar, he will also be interacting with the media, participating in interviews, and creating podcasts from COP 26. He is looking forward to meetings with the Department of Prime Minister & Cabinet, the Department of Foreign Affairs & Trade, and the British High Commissioner on decisions from the summit. Alex will be glad to share his experiences with ESRAG and the Oceania Chapter on his return. You can reach him by email here.
By Lesley McCarthy, Newsletter Editor, ESRAG Oceania Chapter
Ecology Day Conference Nov. 6!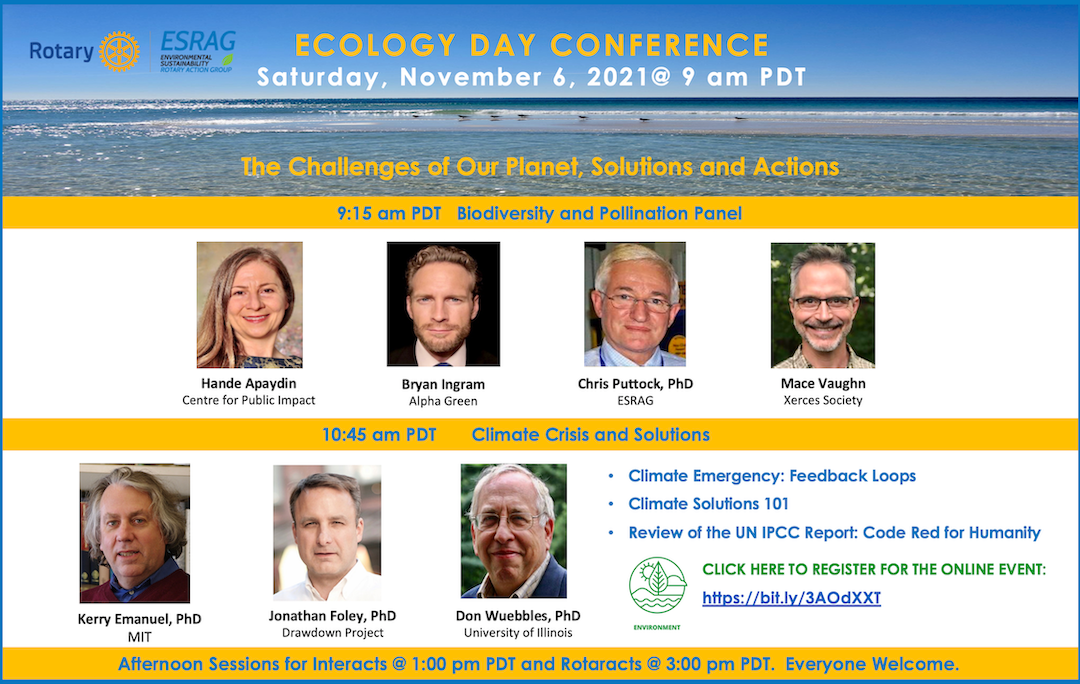 Register here for the Nov. 6 Ecology Day Conference hosted online by ESRAG's Western North America (Big West) Chapter! The morning panels showcase internationally-renowned speakers on environmental crises and solutions. The afternoon highlights the environmental work of young people, including Interactors, Rotaractors, and environmental clubs at the high school and university level. The conference starts at 9 am Pacific Time, 2 pm UTC. It is open and free to everyone.
The first morning panel is on Biodiversity and Pollination, with Hande Apaydin of the Centre for Public Impact, Bryan Ingram of Alpha Green, Dr. Chris Puttock of ESRAG, and Mace Vaughan of the Xerces Society. The second panel highlights the Climate Crisis and Solutions. The speakers are Drs. Kerry Emmanuel of MIT, Jonathan Foley of Project Drawdown, and Don Wuebbles of the University of Illinois, who is a member of the Nobel-Prize winning Intergovernmental Panel on Climate Change (IPCC).
In the afternoon, young people will share their environmental concerns, hopes, and hands-on projects in talks and videos. The Interact session starts at 1pm and the Rotaract session at 3 pm. Registrants of any age are welcome to attend all sessions, and recordings will be available afterwards on the ESRAG website and Facebook pages and the ESRAG Big West Facebook page.
The conference celebrates the Environment as Rotary's new Area of Focus, and Rotary Ecology Day (Nov. 1), declared in 1990.
Project Biodiversity+ Seminars
Conclude World Rivers Series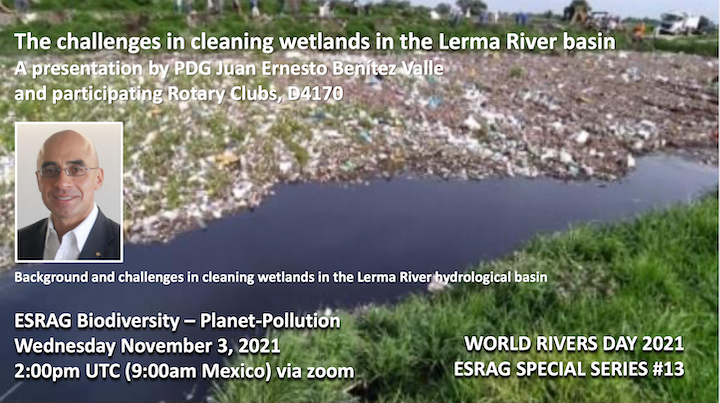 ESRAG's November Project Biodversity + seminars, led by ESRAG Director of Projects Dr. Christopher Puttock, are the final sessions of the 2021 World Rivers Day series. The first two sessions showcase watershed projects in Mexico, and we're delighted to offer simultaneous translation (Spanish/English). Note that daylight savings time ends in Mexico on Oct. 31. Here's the schedule:
Nov. 3: Challenges of Cleaning Lerma River Wetlands, PDG Juan Ernesto Benitez, 9 am CST (México), 4 pm UTC
Nov. 10: Together Let's Save Lake Iguala-Tuxapan and its Watershed, Elvira Durán Ramírez, 9 am CST (México), 4 pm UTC
Nov. 24: World Rivers Roundup, Subijoy Dutta, 10 am EST (US), 4 pm UTC
Each talk is about 30 minutes, (not including Q&A), a perfect length for a Rotary meeting. Once you register here for any of the talks, you'll receive email updates of the upcoming topics and speakers. We will be posting recordings on the new website, where they will be available for Clubs, Districts, or teams to view at any time.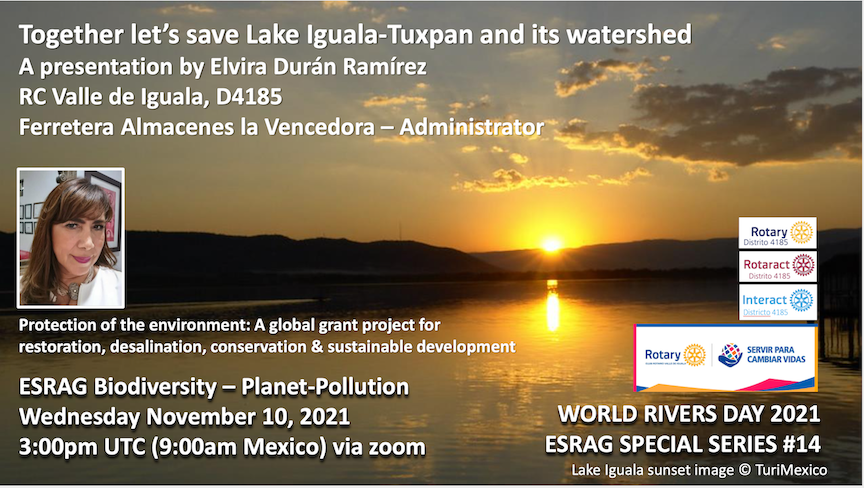 Photo by Ken Burton, showing George Basch on South Georgia Island off Antarctica, following the footsteps of Sir Earnest Shackleton, 2018.

ESRAG member George Basch, a passionate lover of Planet Earth, won Earth Gives' inaugural Earth Champion award Oct. 7 for lifetime environmental achievement. The 84-year-old adventurer has been traveling the globe since 1962 whenever he could take a little time off from his career, visiting 60 countries and all seven continents. Over those six decades he has witnessed the devastating impacts of climate change on habitats, and the living creatures - including humans – whose life depend on them.
His response? To equip people with knowledge and hope to repair the damage. To do that, he created Champions of the Planet, an inviting and user-friendly website linking readers to videos and articles demonstrating the Seven Actions to mitigate climate change, outlined in Sir Richard Attenborough's 2020 documentary "A Life on Our Planet." The website offers a rich library of free, downloadable resources for teachers, too, including videos, curricula, and articles.
George Basch joined the Taos Milagro Rotary Club in 2007, and launched the Himalayan Stove Project in 2010 as a memorial to his son. This initiative was backed by the Taos club, other clubs in District 5520, the Madison Rotary Foundation and a broad range of donors outside of Rotary. Before the pandemic wrecked supply chains, the project provided portable, clean, fuel-efficient cookstoves benefitting 50,000 people in Nepal.
George is also working to strengthen environmental nonprofits. He teamed up with Canadian Rhonda Bannard, founder of Earth Gives, to use the proven platform of a giving day to broaden support for this crucial issue. On Oct. 7, they launched the first-ever nationwide giving day dedicated to climate change. George sees the web platform as a valuable year-round catalyst for awareness and donations. Each nonprofit sets up a profile page describing its mission. Board members and other supporters can add their own fundraising pages to promote its cause, using the site's social media links to help the invitation to donate go viral.
On his travels this summer, George met ESRAG Chair Rick Randolph and his wife Jo, and ESRAG board members Larry Hands and Karen Kendrick-Hands. He invited Larry to set up an ESRAG page on Earth Gives. Then he created his own campaign for ESRAG, and included an ESRAG video in a link about Rotary on the Earth Gives website. Impressed that ESRAG is providing technical assistance worldwide, leveraging a "very slim budget," George says "ESRAG needs operating money, and Earth Gives is really a good fit."
The result for ESRAG? Stellar! Readers, your donations boosted ESRAG to the top of the leaderboard to win $3,100 in prizes provided by Earth Gives Day sponsors. See details, this issue!
Earth Gives Day Success:
Over $12,000 for ESRAG!
We're thrilled to report that ESRAG raised over $12,000 including three prizes in the inaugural Earth Gives Day Oct. 7! This happened because three alert ESRAG members -- U.S. Rotarians George Basch, Larry Hands, and Fred Peck -- connected us to the brand-new Earth Gives platform, and because of your generous donations.
Earth Gives Day has been launched to serve as "a one-stop showcase for investment in, partnership with, and knowledge-sharing from the hundreds of environmental and climate-focused nonprofits doing the critical work." Donors can support ESRAG on Earth Gives year-round. It's easy to share the link on your social media pages.
For Earth Gives Day 2021, ESRAG won a grand prize of $1,100 for raising the most of all participating nonprofits. We also won both $1,000 awards for small-budget non-profits: most individual donors and most donated. In total, the campaign has raised $12,130 to power ESRAG's programs, including seminars, conferences, websites, social media, and newsletters.
Heartfelt thanks and cheers to George Basch, a co-founder of Earth Gives, for informing ESRAG board members about the platform, and to Larry and Fred for joining him in setting up campaigns and spreading the word. And thank you to all of you who contributed! This is an auspicious start for ESRAG's quest to build support. In the next newsletter, we'll report how to tell your networks about ESRAG's participation in the global Giving Tuesday campaign November 30.
New Membership Platform Coming
Starting soon, ESRAG's communications -- including this newsletter -- will be coming from a new email sender and platform. As part of our constant quest to improve services to you, we are reviewing ways to facilitate communication among members, from Regional Chapters to people working on specific projects.

After examining ESRAG's needs, the IT Needs Assessment Taskforce chose a new membership management system using the technology of iMembers and DACdb. iMembers is used by many other Rotary groups, and its interface and tools will look familiar to you if you've used DACdb. For several months we have been in transition from Zoho to iMembersDB. This transition has been a highly collaborative and thoughtful process, with an amazing team of dedicated people from both the ESRAG team and the full iMembers staff.
The ESRAG IT Taskforce, reporting to the Board of Directors, includes Michael Terrelonge, (Chair), Mike Cloutier, Steve Solbrack, Ludwig Kalthoff, Larry Hands, Rob Anderson, Karen Kendrick-Hands, ESRAG Executive Director Katrina Zavalney, and others. They have been diligent in planning and communicating with the Board and others, to ensure the transition is well planned, goes smoothly, and bugs are worked out. ESRAG's intention is to open up a member portal on iMember to all ESRAG members in the near future.

Heartfelt thanks to the IT Taskforce for leading this crucial upgrade, which will make it so much easier for us to catalyze and share the news of Rotarians' effective environmental work worldwide.
Remember! This is our final newsletter using the Zoho platform. Please add mailservice@iMembersDB.com and membership@ESRAG.org
to your address book so we can share valuable information with you
without messages landing in your spam folder.
Read about ESRAG and Rotarians' environmental projects on our new website! Articles without by-lines in this issue are by ESRAG's Newsletter Editor Ariel Miller. Please email her with news and resources you'd like to share with ESRAG members in our monthly newsletter. The deadline is the 25th of the month before publication.
The Environmental Sustainability Rotary Action Group operates in accordance with Rotary International policy, but is not an agency of, or controlled by, Rotary International.